My CollegeTracks Journey into College
PART 1 of 2 – Preparing for College Enrollment
Article by Aaron Merlos, Scheidel Foundation College Success Fellow
Nationally, one-third of undergraduates identify as first-generation college students and many are minorities and/or from immigrant families. For me, this information is not simply a statistic – it is my life. I am a first-generation college graduate who is African American and Latino. Students like me experience many barriers to higher education, which may seem innate for individuals outside of these "statistics". These factors include:
Financial limitations: Since many minority students originate from lower-income families, it can be challenging for them to pay for the escalating costs of tuition, fees, textbooks, and living expenses connected with higher education.
Systemic discrimination: Racism and implicit biases can make it difficult for minority students to feel welcome on college campuses and during the admissions process.
Lack of representation: Minority students may not see themselves reflected in higher education faculty, staff, and curriculum, which may influence their sense of achievement and belonging.
Cultural barriers: Cultural disparities between students' home countries and the collegiate environment might make students feel alienated and cut off from the campus community.
Language barriers: It can be difficult for students to understand lectures, assignments, and other academic materials, especially if they are English language learners or come from homes where English is not the primary language.
Immigration status: Undocumented or DACA (Deferred Action for Childhood Arrivals) students may encounter legal challenges and have limited access to financial aid and scholarships due to their immigration status.
Lack of support systems: Minority youths may not have as many mentors or support systems to turn to for advice during the college application and enrollment process.
Family obligations: Pursuing higher education can occasionally conflict with cultural expectations and family obligations, especially for first-generation college students.
Access to information: Minority students may find it difficult to successfully navigate the admissions process if they are unaware of the resources, financial aid possibilities, and college.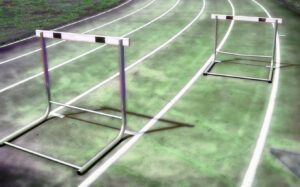 These barriers were not only issues I saw my peers face, but ones that I also had to overcome. I struggled with multiple challenges: having a lack of access to information, seeing a dearth of representation within the universities I wanted to apply to, the feeling of financial limitations, and a lack of mentors to help me fully realize all of my options. All of these barriers made me feel unenthusiastic about the college application process. I felt that finding the right place for my higher education journey was more of a burden than an exciting step towards my future. This changed, however, when I met CollegeTracks in my junior year of high school. I was told by a friend about some free pizza for those who stopped by and chatted with the CollegeTracks coaches. I was thoroughly impressed with how invested the coaches were in getting to know me and my future goals. I felt so excited when they explained the support CollegeTracks offers its students each year of high school. Seeing that the coaches/mentors shared the same identity as me made me feel heard and understood.
CollegeTracks focuses on working with low-income, minority students to close the opportunity gap within Montgomery County Public Schools. The organization guides these students into and through higher education. In turn, students change the trajectory of their lives and their families. CollegeTracks is built into two different programs: the College Access program and the College Success program. The College Access program helped me focus on and complete the steps toward college acceptance, including; planning for higher ed and a career path, prepping for standardized tests, creating a higher education list, submitting applications, applying for financial aid, applying for scholarships, deciding where to attend, and enrolling. The organization set me up with the resources to finish my high school education strong, and to have multiple options for the next steps in my academic career. Photo at right: My College Access Coach and me.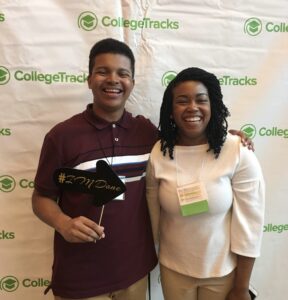 In Part II of this series (coming October 2023), I will explain how CollegeTracks continued to support me through the College Success program, and how it guided me throughout my college journey.